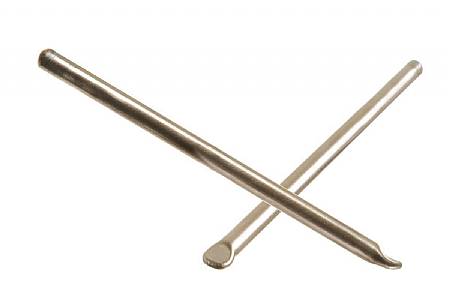 Nice, small, light tire levers that won't break like plastic levers
A friend had shown me his King Cages Ti tire levers and they were very nice, so I ordered some.
I wanted them not because they were Titanium and so light, but because I wanted a metal tire lever that wouldn't break like some plastic ones have done.
The ones I ordered are very nice and light and work well.
I have a few small things to point out
1. My friend's levers were smoother than mine. It looked like they were pressing the end, but the ones that I got had the flat part welded on.
2. There are some mild rough spots on them that I wouldn't expect, some from the weld area and some from the other end.
3. The lengths were inconsistent between the levers that I ordered (I ordered 3 pairs). Not that that matters, but it is strange that they are all different lengths.
BikeTiresDirect.com Comments
Thanks so much for the feedback on the Ti Levers. It is worth noting that every set of levers is handmade and welded, which may account for discrepancies in length and finish. These differences should not affect the quality of the levers. Anna BTD
Thank you for your feedback.
Cycling Enthusiast
Wenatchee, WA
Very nice product, tire mounting dismountings a breeze
These tire levers are great for the shop or work stand. I've used them on tough wire bead tires and they make mounting and dismounting a breeze, plus since they're titanium your hands don't fatigued from all that extra weight!
Thank you for your feedback.
Cycling Enthusiast
Central PA
11 of 12 customers found this review helpful.
Didn't work
I was so excited to receive these handmade-in-the-USA ultralight Ti levers. The day they came in the mail I deflated my tires just for the chance to put my new tools to use only to be disappointed. The levers were too shallow to hook the bead, and after a few seconds of trying I noticed a gouge on my rim forming and that the hollow lever had begun to deform. I am extremely dissatisfied.
Thank you for your feedback.
Cycling Enthusiast
Pittsburgh, PA
8 of 8 customers found this review helpful.
So-so.
The first time I used a pair of levers on a really tough tire (heavy snow tire) one snapped. Fortunately I bought two sets and haven't had the problem with three levers used at once. The main advantage of the levers is size and weight, for silly weight weenies such as myself. They are tiny and weigh nothing. However, the claim that the levers won't mark rims is wrong - they press on the rim hard enough to leave a mark, especially with a heavy tire.
Thank you for your feedback.
Cycling Enthusiast
Fort Collins, CO
2 of 2 customers found this review helpful.
Extremely light, weight, strong tire levers, and priced at a great value
The first time I used the King Cages Titanium Tire Levers was on a Schwalbe Marithon Plus 700 X 35 tire. The levers worked great, unlike the plastic levers that are suppose to be unbreakable. The King Cage levers are user freindly in that you can easily get under the bead, and they do not damage the rim.
Thank you for your feedback.
Cycling Enthusiast
Repton Australia
Cycling Enthusiast
Portland, OR
4 of 4 customers found this review helpful.
Not up to the job.
One of the levers collapsed right where it met the rim while trying to take the tire off. It was the very first time I used them. The tire was a Schwalbe 700x28 Marathon Green Belt with wire bead and they are well know for being hard take off and install, so these titanium levers might work with lighter tires with kevlar beads, but they won't be going in my kit.
Thank you for your feedback.