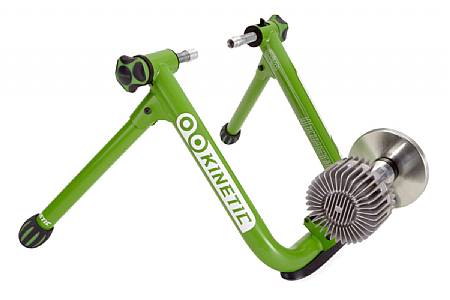 Cycling Enthusiast
South Wes Virgina
Cycling Enthusiast
Jupiter Fl.
6 of 6 customers found this review helpful.
I'm glad I got this
I'm training for my first long course triathlon and having this in my arsenal of training gear eliminates weather issues, late night safety riding issues and I'm still home in case the family needs me.
It's great for intervals. I've had it about 6 weeks and it's helped me keep up on the Sunday long (65+) rides with my group.
Quality and functionality. You have to put in the work but the results are worth it.
Thank you for your feedback.
Cycling Enthusiast
Alpharetta, GA
1 of 1 customers found this review helpful.
Quiet, well made and good to ride
As an owner of a KickR, I was looking for an indoor trainer that I could use whilst travelling with work. To that end it needed to be easily transportable and quiet as I did not want to be persona non grata disturbing fellow guests whilst at a hotel.
Having performed quite a bit of research I therefore selected the Kurt Kinetic Road Machine 2 (based on my research the revisions between the RM2 and the original RM were minimal and seemed to be ability to use a 29er and the trainer arriving fully assembled).
The trainer was indeed fully assembled and within a few minutes bike was attached, which was quite straightforward but as common with many turbo trainers it would be quite easy to over tighten the trainer on the wheel skewers (I use an old aluminium cyclo cross bike so not too much of a concern).
The trainer is indeed quiet in use, the feels good (there is a pro flywheel that is available that is meant to further improve the ride characteristics). One of the features I liked about the RM was the repeatable power characteristics of the trainer, to further utilize this I purchased the Kinetic inRide virtual power meter that is meant to provide pretty accurate power readings when used in conjunction with the inRide IPad and IPhone APP.
In summary and based on having used for 3 weeks whilst on work trips I would say I am very happy with the trainer, it seems to be built to last, rides well and does not wake other hotel residents.
Thank you for your feedback.
Cycling Enthusiast
iron river, michigan
Just keep your mind occupied-this trainer does the rest.
There's absolutely nothing I dislike about the Road Machine. It's a breeze to assemble and the ride is great. My previous trainer had to have been 25 years old and there was nothing I could do to make the ride more difficult. Now, I just shift gears and it's just like being on the road. Just have something meaningful on your TV and hop on.
Thank you for your feedback.
Cycling Enthusiast
Winnipeg, MB, Canada
If you have to ride a trainer this is it!
Have had one since 2007 or thereabouts, in the original grey model. Use ever winter, sometimes for lots of miles sometimes not. Built to last, quiet and realistic spin. If you have to use a trainer, Groan, then use this one. Good combination of price and features although if I had to do it again I would get the version above it the Smart one.
Thank you for your feedback.
Competitive Racer
New York
1 of 1 customers found this review helpful.
Best trainer for training
A high quality compact and quiet trainer that is easy to use and transport. But the best part is the available Inride sensor and iphone/iPad app with workout profiles and calibrated power measurements along with speed, cadence, distance, etc. as well as heart rate if you have the available sensor or a Wahoo sensor. Just make sure you put a piece of tape over the sensor magnet to ensure it does not fly out.
Thank you for your feedback.
Casual Cyclist
Vancouver, WA
3 of 3 customers found this review helpful.
Great Improvement
I switched from the big box store brand fluid trainer to the Kinetic. What a difference. The flywheel gave a more on the road feel and the resistance unit provided a great work out. Well worth the money. Does anybody want to buy a used trainer?...
Thank you for your feedback.
1 of 1 customers found this review helpful.
I love the Kinetic Road Machine 2.0 Trainer.
This bike trainer works great for me. It provides plenty of resistance and a smooth cadence. I can spin or do intervals with this trainer. I can spend hours on this trainer without my wheel getting hot or even warm. I have used one other trainer and this one is so much better worth every penny. I am training for my first ironman so I am logging lots of hours on the trainer this winter but I am still getting a great workout. The trainer is sturdy I can stand up and push a hard gear for hill training. I compete in races but have always been a biking enthusiast love to ride.
Thank you for your feedback.