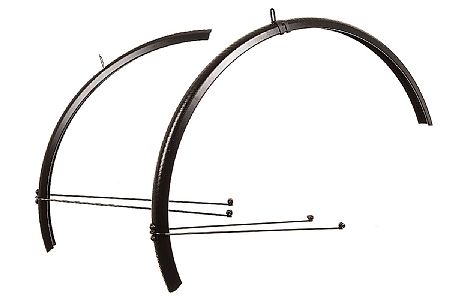 1 of 1 customers found this review helpful.
Put it on and fuh-getta-bout it but will take you awhile
I wanted a metal fenders to replace a broken plastic fenders for my touring bike (Salsa Vaya 3 w disc brakes). Metal fenders are typically a lot more costly than plastics but these were quiet affordable so I took the plunge and I'm glad I did (for the most part).
The Good Very sturdy (all metal fasteners no plastic, yeah!), no rattling or loosening up after bumpy rides. Looks great (goes great w black rims, subtle sophisticated look, almost not there ). Good value.
The Not-So-Good Tricky to install esp. if you have disc brakes. I had to bend the front fender stays to clear the disc brake. You also have to cut the fender stays to fit your bike (measure twice, cut once...). Directions are vague at best so you really need to take the time to get a general idea of how it all works before you start cutting and assembling.
I've only put 500 miles on it but so far everything is nice and tight like the first day. This wasn't the case with the plastic fenders I had with plastic fasteners.
Thank you for your feedback.
Cycling Enthusiast
Marysville, Wa.
Cycling Enthusiast
Portland, OR
Awesome look, great coverage, classes up any bike
These look fantastic once installed. Makes the cheap plastic alternatives look like cheap plastic. I only have ridden them in a couple days of light rain but the kept all spray and road grim contained.
The are a little tricky to instal but once on they are the best looking fenders around.
The feel like they will last forever.
Thank you for your feedback.