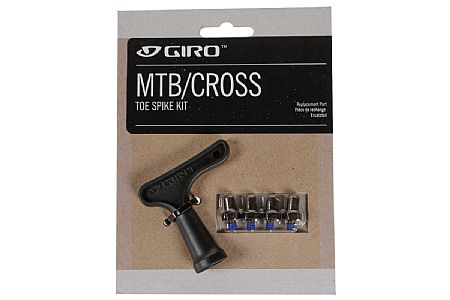 Competitive Racer
Sacramento, CA
1 of 1 customers found this review helpful.
Extra Grip!
While this past season of cyclocross in NorCal was not nearly as muddy as last year - these were a nice improvement. They installed easily on my Giro Code MTB shoes that I use for CX racing. They are medium sized toe spikes, so work well for most conditions except maybe really hard snow & ice. But for most of the terrain and conditions around NorCal they are just right. They come with the included wrench which makes installation a breeze. The threads also come pre-coated with blue Loc-Tite to ensure they stay in place. I highly recommend them if the conditions are at all slick and you have a run up or two to navigate during your race.
Thank you for your feedback.
Competitive Racer
Portland, Oregon
1 of 1 customers found this review helpful.
Solid product. Just screw them in and go!
Great product. Pretty basic stuff. Just screw in using supplied tool and they are bullet proof in the rocky, muddy stuff during runs in Cyclocross. Would recommend using a dab of lock tight to keep secure so you do not have to keep tightening them. Also better if installed with newer bike shoes since mud and dirt tend to contaminate the holes where these are screwed in and it can be difficult to get them tightened.
Thank you for your feedback.