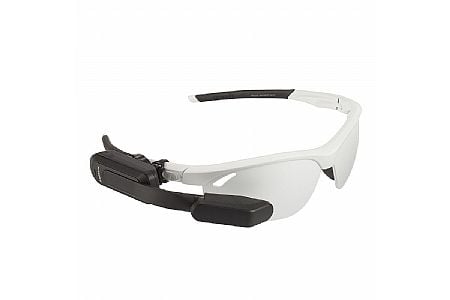 Nice job if you need it.
I bought this specifically to combine with the 820 and the Varia. The Garmin 820 has the beeper that works with the Varia to let you know of approaching cars, under the mounting area. It can barely be heard with the Garmin mounting bracket. (fortunately it can be heard decently with a 3rd party mount). The Varia Vision, aside from giving assorted data (I am not sure if those shown data fields are changeable but that would be nice) gives you better feedback of approaching traffic by putting it right in your face. A short amount of getting used to it and it works quite well. As for blocking your vision, it doesn't. I have mine in the upper right corner of my vision and unless i am focusing on it, my left eye sees the small area covered by the VV over my right eye. The mind and sight do this perfectly. It could be improved in many ways, but for my most important use, it works very well and especially when on sale, is well worth it. Safety always is.
Thank you for your feedback.
Cycling Enthusiast
Central Wisconsin
2 of 2 customers found this review helpful.
Better Than Expected
I was curious how the eye focus would work out being so close to your eye, and it was perfect. Comfortable to focus on, even at that ultra close placement. It does have to be positioned just right though to be able to see all fields to the edges. I felt I had to share my experience as it was entirely different than the other existing review. The only difference is that I am using the Edge 1000. It paired without a hitch. I have it set to display 2 data pages of 4 fields each all of them are correct - and it is showing my radar display on the right edge as well. The only drawback is that the support structure does slightly block your vision when glancing to that side. But the only time I notice it is when approaching an intersection. And I don't feel it's that hard to compensate for. For me, this was one of those things that worked so well I don't even think about it anymore. I love it.
Thank you for your feedback.
Competitive Racer
Annapolis MD
5 of 6 customers found this review helpful.
dissapointed in price but moe dissapointed in performance and garmin support
I received this item 2 days ago, I have been online and even called garmin and this device still will not work. I have garmins edge 1030 bike computer and this will not display the same field chosen when setting up custom displays. Garmin admits this is known issue in a list of long issues with this product look on the garmin forums httpsforums.garmin.comforuminto-sportscyclingvaria1259104-garmin-varia-vision-doesn-t-sync-data-with-edge-1030 This is my last time purchacing garmin products they continue to use the customer as the testers without remorse. Adding insult to injury I paid $399 less than a week ago and now it's on sale $100 cheaper, man I am a sucker! The shipping became quite the hassle, UPS took 6 days to deliver an overnight shipment. The only silver lining was Nate from BTD refunded my $20 shipping costs. This product is not supported by Garmin, buyer beware and will not display your data. Other issues also include the unit locking up the garmin computer and not recording any data on the garmin computer. Basically this thing does not work.
Thank you for your feedback.