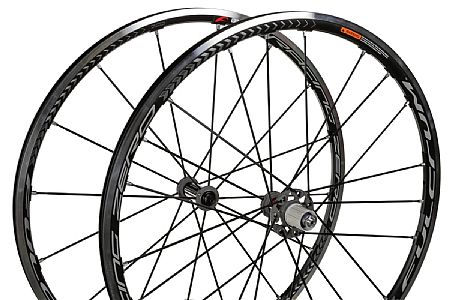 Cycling Enthusiast
Irvine, CA
4 of 4 customers found this review helpful.
Amazing Wheel at a reasonable price
The reactivity of the wheel-set on climbs is unbeatable. The overall weight of the two wheels is only 1518 grams which make them easy to climb with.
Very smooth and good price with Biketiresdirect.com
Thank you for your feedback.
Cycling Enthusiast
Eugene, Or
2 of 3 customers found this review helpful.
Fast wheels that do not break the bank
Old and retired, but still like to ride as fast as I can. Was once a Cat3 racer, I am comparing these wheels to old
ROLF Vector Pros and new Rolf Prima Echelons. Both Rolf wheels ride and corner well and spin up quickly, but the racing zeros are in a league a head of the the other wheels. They are really strong wheels also as I found out when I cut a corner to tight and hit a huge pot hole and was surprised that I did not break the wheel or get a pinch flat. I do not do lots of climbing but what I do has been somewhat easier as the wheels seem to spin so easy. I got these on sale and at the sale price I think they are a great value. I am sure there maybe better wheels out there, but if you you do not want to spend 2000.00 plus on a set of wheels that will make you faster try these, I think you might like them I know I do.
Thank you for your feedback.
Cycling Enthusiast
Pittsburgh
Light, solid, very smooth
I am a 200 pound roadie and bought these after breaking a spoke in my Easton wheels 20 miles outside of town. They are extremely well made, quite solid under me and have remained true for the last 300 miles. Not fantastic light, but quite smooth and seem very fast. I don't need help going down hills, but I seem to roll out off the hills further out in front of my buddies than I used to... ?spoke count, bladed spokes or the ceramic bearings. I do love the way they feel under me and am happy with the purchase. Came with Swiss stop pads. No complaints.
Thank you for your feedback.
Cycling Enthusiast
Portland OR
16 of 16 customers found this review helpful.
Light and Quiet and Durable
Light wheels make a big difference when climbing and these are some of the lightest. But what about your reward for all that climbing? The high speed descent... These wheels are stable and quiet at high speed and they have a huge braking surface. I have used these wheels for RAMROD, High Pass Challenge, Copper Triangle, Triple Bypass and several trips up to Timberline Lodge (your basic epic mountain rides) and these wheels quickly transfer power on the way up and on the way down. And when I have hit the inevitable mountain road pot holes, these wheels remain true. In fact I've gotten several years of use on these wheels without ever having them trued. Great wheels.
Thank you for your feedback.