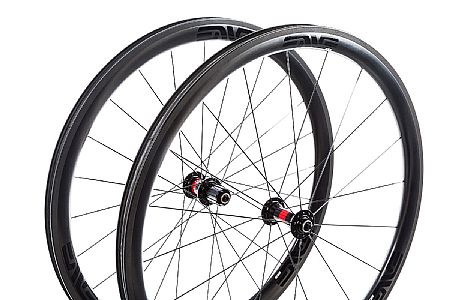 7 of 13 customers found this review helpful.
Nice Wheels if you can get the tires on them
The good.
These are nice wheels, I been using Zipp 202 for the past 2 years and the 3.4 are definitely faster.
The Bad
I understand Enve wants the wheels to be aero and low rolling resistance. But take an hour to change a flat than there is a problem with the design.
I can change tires on any wheels in 5 mins except for the ENVE 3.4. The rim is so deep that is almost impossible to install the tires on the fly. Good luck if you get a flat on the road and not near and bike shops.
Hope Enve gets it. Performance is not everything if you can quick changing flats while out ride.
Thank you for your feedback.
5 of 6 customers found this review helpful.
Smooth and Fast
Pros these wheels are light and fast. I have about 150 miles on them so far and am enjoying increased average speed of 1-2mph. The wheels and 25mm tires at 110lbs give me a much more comfortable ride.
Cons while the brake padsrims are very effective (dry riding so far), they continue to make a lot of noise. It sounds like a missile tracer round when you put any real pressure on the pads. I had hoped with break in they would tone down but so far no such luck.
After considering going Carbon the last few years I am still happy making the switch with the overall performance improvenents these wheels provide.
Thank you for your feedback.