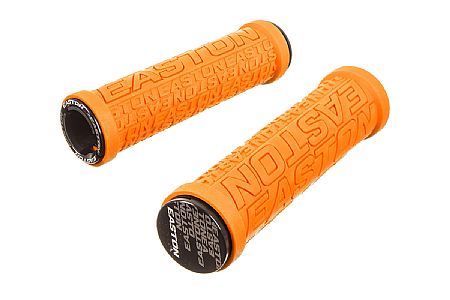 Competitive Racer
Las vegas
Cycling Enthusiast
Texas Hill Country
3 of 3 customers found this review helpful.
Unique mounting and locking design, top notch, quality product.
On my Trek 4400 hardtail mtb, Bontrager Crowbar bars, they look state of the art, and they are. Wow! These beauties not only style, but perform as well! No more loose grips on those bumpy downhills that pucker you up. If you want more cushion, order the larger diameter. If you prefer a more narrow gauge grip, go with the smaller diameter grip. You can't go wrong with Easton!
Thank you for your feedback.
Cycling Enthusiast
Olympia, WA
Get a GRIP!! Add some bling to your ride.
The grips are great and available in 33mm OD which is a big plus for me. Replaced my OEM grips because I like a thicker tackier grip and these fit the bill. Plus I put the orange ones on my Carbine 29 and they are delightfully obnoxious. Great grip and control in dry or wet conditions.
Thank you for your feedback.