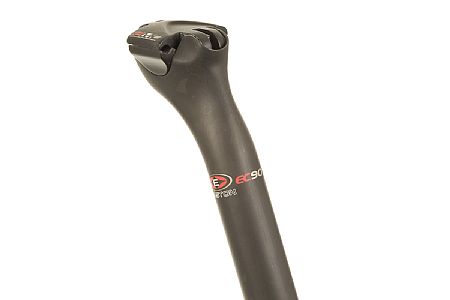 Competitive Racer
Novato, CA
1 of 2 customers found this review helpful.
Poor hardware, poor EASTON customer support.
Purchased this seat post less than 1 year ago on May 13, 2017. Torqued seat to below spec (50in-lbs) using a CDI torque wrench (made by Snap-on) and the cap of the hardware which holds my seat on has developed a crack with use. Called EASTON to activate warranty OR purchase new hardware. They informed me that they do not deal directly to the consumer in the case of getting replacement hardware even if I was to buy it and that I need to go to a EASTON certified dealer (2hrs away) to get warranty assistance. I did not purchase this item through bike tires direct, although I did contact them. It seemed that they were sincere in helping me but I found the hardware I needed online and would rather just buy and have the new hardware and fix my seatpost sooner than later as I continue to bike on the trainer during the winter. About me I am 5'7 and 170lbs with FTP of 250, I do sprint tri's and local duathlon's and banked about 1,000 miles this year on the bike. This failure should not have happened. I do not recommend this product, I recommend purchasing another brand.
Thank you for your feedback.
Cycling Enthusiast
San Francisco, CA
Cycling Enthusiast
Honolulu
Cycling Enthusiast
San Francisco Bay Area
Beautiful Seatpost!
This seatpost is absolutely beautiful... light and strong (so far!). The available sizes were limited, but the 31.6 fit my frame perfectly. The 20mm set back is the correct offset for me. No slippage in the frame or seat, with carbon lube, the clamp holds the seat firmly. Highly recommended.... Jeff
Thank you for your feedback.