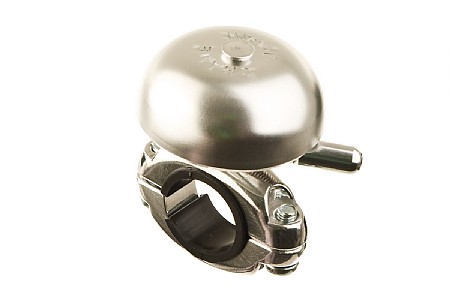 Cycling Enthusiast
Humboldt, California
1 of 1 customers found this review helpful.
Ding!
A nice looking and OK-sounding silver finish bell that alerts pedestrians and other cyclists to your presence and completes the look for rando, commuter, or townie bikes. Nice solid mounting design and no rattles or unwanted ringing from road vibration.
I could see the spring that mounts the dinger(?) being the weak point in the design, and in fact mine snapped when I tried to adjust the angle of the dinger without unscrewing the bell part enough. Enough of the spring was present to kluge it back together, but I was kinda disappointed that this happened with a new purchase. Operator error, I suppose.
Not actually the most musical sounding bell. I had imagined the melodious tones of Amsterdam streets, but found the sound a bit utilitarian. Maybe the brass would sound better? Gets the job done and looks cool anyway.
I basically bought this to bump up my order total to get free shipping-or a free bell in this case. Plus I wanted something to tie in with the look of my new Velo Orange fenders. Looks great.
Thank you for your feedback.
Casual Cyclist
South Carolina
4 of 5 customers found this review helpful.
Well executed and simple
The design and execution of this little bell is wonderfully simple. Nothing to break and produces a nice, clear ring to announce yourself to others without alarm. I positioned it on my handle bar and can easily flick the striker with my thumb. The striker is on a spring and all parts appear to be either chromed or made of corrosion resistant materials. It looks nice too and while simple is well made.
Thank you for your feedback.
Cycling Enthusiast
San Jose, CA
High on Beauty, Low on Function
I looked far and wide to find a classy looking bell to go with my Cinelli quill stem. It looks great but the ringtone is very low and dull sounding and on top of that the striker fell out of the spring holder. I'll get rid of this and get another Incredibell which has been on my touring bike for over 10,000 miles and still going strong.
Thank you for your feedback.