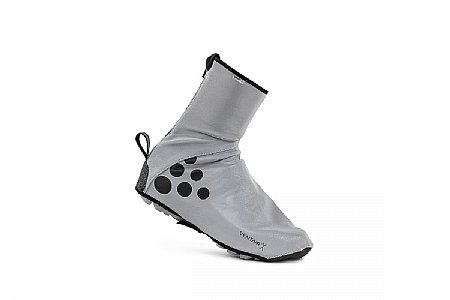 Competitive Racer
Northern California
Water Resistant, NOT Waterproof
Like many others, these claim to be waterproof and based on the description I was hopeful. The seams are taped and the waterproof membrane covers the entire inside of the bootie. They also have a snug cuff with an velcro closure. When I first got them I gave them the hose test, I put the booties on over my cycling shoes and sprayed them with a hose for several minutes. No leakage so confidence was high. Then I went out for a 5 hour ride and it rained lightly almost the entire time. For the first hour, my feet stayed dry. However, then I could start to feel some leakage and by two hours into the ride my feet were soaked. The material is thin and does not provide any insulative properties but they did seem to do a decent job of blocking the wind so at least my feet didn't get cold on this 50 degree day. My search for truly waterproof overshoes continues.
Thank you for your feedback.
So nice, so bright
The reflective material is bright! While the reflectiveness is a very nice bonus i got them for their waterproofness and it has been a game changer. No more cold wet feet on those rainy nasty commutes. looking forward to see how they hold up.
Thank you for your feedback.
A glowing pile...
These booties are waterproof and reflective keeping your feet warm and dry. The problem is with the construction. After less than five wears they started to show signs of seam ripping. I could look over small flaws. The final straw was after only two weeks, when I was going to connect the Velcro on the bottom of the bootie and the Velcro closure ripped off entirely. The bootie has good features but not the construction to match
Thank you for your feedback.