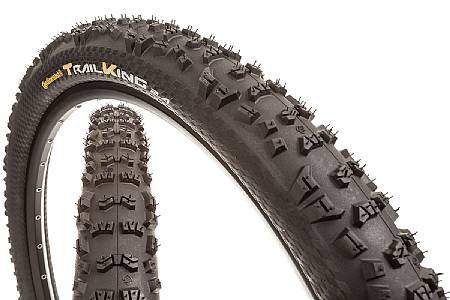 Cycling Enthusiast
Willamette Valley OR
4 of 4 customers found this review helpful.
A new favorite tire
These are my new favorite all around tires. After trying a few other, these are the ones staying on my bikes. I use these on both may hard tail and full suspension bike. They set up tubeless well on my Stan's based wheels, and the Spank Oozy 295 wheels. I run them at 25 psi with Continental sealer. Their grip is quite predictable, even when they slip a little, they never seem to completely wash out. The rolling resistance is actually less then I expected for a knobby tire, but it's still there. Overall, a confidence inspiring tire in mud, roots and hard pack that I have been over so far. My only reason for giving them 4 stars for value is because the price is average with most tires of this style. That said, they are worth every penny.
Thank you for your feedback.
2 of 2 customers found this review helpful.
Excellent on muddy singletrack trails
Tried these tires for muddy fall weather, as the tires Maxxis Crossmark that came with the bike were slipping. I'm riding hilly singletrack with a lot of roots & rocks & these have really made a difference. They can be run tubeless although I'm not running them this way. I'm running 25 psi!
Thank you for your feedback.
Cycling Enthusiast
Portland, OR.
7 of 8 customers found this review helpful.
All Time Favorite
I've been riding this tire for 4 years now in the 26" size. I bought a new bike with a new wheel size so this was the first upgrade I made. These tires work for wet slimy trails or dry rocky ones. I've used a lot of tires over the years and the Trail Kings are really that good. Point and shoot. Climbing or descending. Do yourself a favor ans check them out.
Thank you for your feedback.