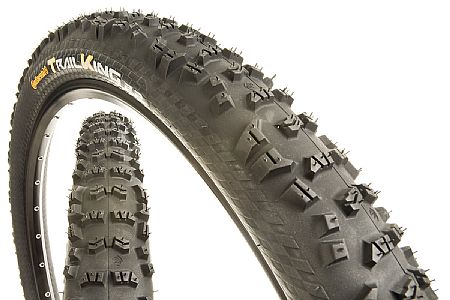 1 of 1 customers found this review helpful.
Nice Tire, Challenging Installation
Very pleased with quality of materials and ultimate performance, but installation on my Corssmax SL wheelset was a challenge. I finally beaded the first tire by mounting it with a tube and inflating the tube to seat both sides. I then removed one side of the bead and removed the tube, leaving one side seated. I was then able to seat the remaining bead with the boost from a 16g CO2 cartridge (floor pump and even gas station pump built up pressure too slowly to seat the bead, CO2 was just quick enough).
That was the first tire. The second tire was even more stubborn. After the above effort failed I skulked into my LBS begging for help. Fortunately, their pump had enough boost to bead the second side and I was good to go.
Thank you for your feedback.
Cycling Enthusiast
Glendale CA
1 of 1 customers found this review helpful.
Kinda expensive
This is a fast rolling tire. I had it on the rear of my XC bike. Its a few grams heavier than most XC tires but the sidewall protection is well worth it. Great for hard pack and some muddy conditions. Sloppy conditions it does not do well. Since it is a Continental, they are expensive which I don't like but it may last 2 seasons.
Thank you for your feedback.
Cycling Enthusiast
North Shore, BC
10 of 10 customers found this review helpful.
Great, beefy tire for all-mountain
This is a solid, big tread tire for all-mountain riding, including light mud and slippery roots. The Black Chili compound provides tenacious grip on wet rocks or woodwork, and the high volume makes it cushy, especially at low air pressures. The 2.2 is true to size, and very much larger than the corresponding Mountain King II.
I'm running it tubeless on an old-school Mavic wheel with Stan's strips and sealant, and it holds air wonderfully. No burps yet, but I'm light.
The downside is that this tire is fairly heavy and leans more to freeride than the trail end of the spectrum, so it might be overkill if you have a light bike and your area has lots of good, dry, sticky dirt.
Thank you for your feedback.
Cycling Enthusiast
Santa Monica Mountains, CA