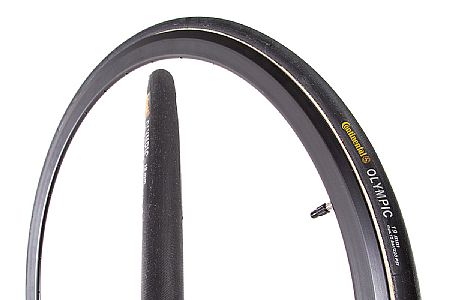 2 of 6 customers found this review helpful.
fastest road TT and a how to install tubular post all in one ungodly long post
580! Lb burst pressure. EddieB team USA 340psi in 84 olympics. Tire is fast due to direct contact with no power scrubbing. Coast down test and Smooth roller tell nothing about power scrubbing lateral loads.
As above this tire has to be run at 200psi and if your big (200 plus) 240psi . It's fast and flat proof true (relatively). Check your tire for too much fabric at valve stem which causes a lifting of tire. Make sure rum is a narrow tire rim. Not all disc and deep dish are for narrow 18s. Put on dry and check at 220. If it's got hops return. Over years the quality has been hit miss with this tire. This tire is an Excellent all out road time trial tire for Smooth Course and especially big riders. You really can race 260psi If you can pump it-few can. It's very flat proof from the Kevlar-unless they changed it from the brown Kevlar fabric. It was a tubeless and it never lost air pressure as a bonus. It's not faster than a nice silk of old days- just more flat resistant and can take pressure like none other.
After tested .id say just under a tube of glue Vitoria. Fasttack 08031 is gone I hear.
Here is how to glue a tire. It works well. My version. Tire one coat , rim one coat, tire half coat 34 tube approx. bigger tire 23c one tube nearly.
This post got jumbled so if you go down you can see five stars-put this section there.
Half coat is to give elasticity in the alignment ahead and the first two coats no rush rim and basetape two strips on each revolution right strip and left.! It should be not stickey after you have done rim then tire. Then get ready and put half coat on rim down center to gloss over and activate drying glue.
remember- gluing a tire is not brain surgery, but you need logic and mechanical somewhat. No glue- wash hands first. Put tire starting hard from the start , watching valve stem for no tilt, stretching as you go. These suckers are hard. You do this so you do not get a fat and thin side. Okay center and pump 220 - look round and centered? ...now with glue for real l, I don't think waiting will help with this tire it's very elastic.
Clean rim first with acetone and you don't have to remove all glue but you have to remove all chemical like glue remover. Metal rims a light 220 sanding in X shape best-scoring actually Mechanical adhesion. Then when tire is on pump to 80psi and center to base tape and Then to tire profile. amazingly Tufos mount better than these and most others.
Once centered pump to a true 220. This is the most important step of all tire installation and always go to limit safe pressure.120 cheap tubs and 170-220 track exotic. let tire dry 24 then reduce to 100.
golden rule - remember the adhesive works best on the outsides, not in the center- I spread as I go quickly thru steps. Don't lay glue down center of rim. Strips down each side or brush. Not thick and not a slim coat.
gilden rule more is Not better. I've seen tires come off expertly glued wheels with 4rim coats- why? Too much solvent! It soaks into fabric and dissolves basetape bond. Old days no basetape for track Olympic and Worlds, but I think it's splitting hairs unless Shallack.
All tires tubular should be glued every 18 months generally and don't allow latex tubes to leak all to flat. Keep air in tire in storage so glue bond does not break. If you ride track you really have to know how to test a tire. If you can roll the tire at 120psi with full two hand effort - do not ride. You can do 18 hrs with mastic just let coats dry more. You can, on the road, have a tire with basetape glued as we talked about, and you take the other tire off tiny skinny screwdriver (think anchovy can first 12 inches opposite side stem.)...then one thinnish coat on rim only and mix old glue in as it softens doing 14
Thank you for your feedback.
5 of 5 customers found this review helpful.
want to really fly?
Okay so if you are actually interested in this tire, it was made for the 1988 Olympics and was made as the ultimate tire. In its original forms it didn't even have a base tape. It has grown over the years to have more rubber and tread when the original had about 1mm smooth tread and it was track only. Then the diamond tread you see here came out. Whats it like?
It has a burst pressure about 200 psi higher than any tire if I remember correctly. It is about 18mm wide and I raced about 10 sets of them over the years being on the USA team long ago. We had 50 or so of them-imagine that. Here is the funny thing, the tires are Super flat proof. I saw them mostly wear out from no tread left. This is a rare sight in ultra light tires. You likely read about this B.S. about Clinchers going faster and roller drum test, but I rode rollers all the time, no hands, 250rpm sprints, the whole deal. So here is the facts...When spinning on rollers and doing high speed drills, you can tell which tire is fast and slow very easily. I never found clinchers even remotely easy to pedal, even at 130psi. The pressure is too low to make them work and they have so much rubber. The fast track tires would spin so easy on rollers it was amazing. No tire came close to being so easy to pedal because I had to put a towel against my rollers to slow them down, due to the resistance being so low. Point being, the tire is a whole different planet from these so called fast clinchers.
Sure its a horrible ride, there is like 5 pumps and its full. No its not fast on Paris Roubx. but for all out speed on smooth surface, nothing is as good. Very strong tire, unlike the beautiful Vittoria or Dugast SilksCottons and the tire is not about supple, it doesn't deform which is a step better. You pump it....to 220psi if your 170lbs. . 220 sprinter my friend I saw the tire deforming on the Velodrome (nut was riding it on Alpenrose). He has it at 240! Yes we can pump that high. You CANNOT Ride this tire at 120 psi. It will not work! IT is not that kind of tire so don't ruin the tire and ruin your rim. You will hit the rim on the track side. You have to use a narrow rim for this tire, it cannot fit on many wider Carbon rims. The Mavic IO for instance is perfect. Because the tire is narrow, it will totally fail on a wide dishcurved rim.
Also you better know what your doing gluing this tire. Put it on dry first. Pump to 200 if you can (I bet you Wince!) If not 170 minimum. Make sure valve stem seats, if not you have to trim fabric (scary or drill counter stink-mostly a expert level mod.) You need one tube of glue, almost. USE Mastic. Don't use Conti. And for sure don't use the soft gummy pathetic stuff like Schwalbe or Tufo or Pana-Cement. Just Mastic Track. Put a coat on the clean rims
Thank you for your feedback.