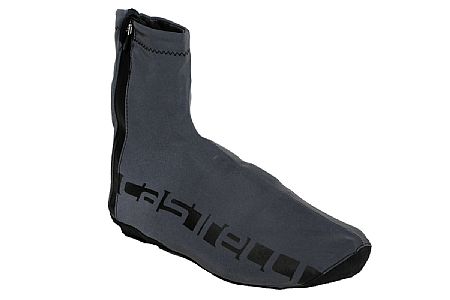 2 of 2 customers found this review helpful.
Nice but way small
Ordered 2XL for my shimano size 47 standard width road shoes with SPD-SL cleats. The covers are so small that I couldn't stretch them enough to fit over my shoes without risk of tearing them. The size chart shows the 2XL fits 46-48 shoes. So the chart is wrong or the covers have the wrong size tag. Returning them and will shop for a replacement.
Thank you for your feedback.
Competitive Racer
Portland, Oregon
1 of 1 customers found this review helpful.
Definitely not Waterproof, Definitely not Durable
I am a competitive triathlete. I ride all winter in a very wet climate. I need shoe covers that are both waterproof and durable. These covers are neither.
Although Castelli claims that these covers are waterproof, they are not. They're fine in a light rain, or to keep cold winds at bay. But in a heavy rain, they soak through in 45 minutes or less. They are nice and snug, which makes them very aerodynamic. But also makes them difficult to put on and take off, and the zipper is sometimes difficult to close. They are highly reflective, which is helpful for night riding. But the fabric is flimsy, and does not wear well.
I have used these shoe covers for less than one full season in the Portland rain. The soles began fraying almost immediately. This morning, as I was pulling them on before a group ride, I ended up with a gaping tear in the right cover, parallel to the rear zipper. Needless to say, I ended up getting soaked. I was not pleased.
Bottom line if you need a durable, waterproof shoe cover, look elsewhere. These covers are too expensive to perform as poorly as they did. This is not the sort of quality I've come to expect and appreciate from Castelli. Very disappointing product.
Thank you for your feedback.