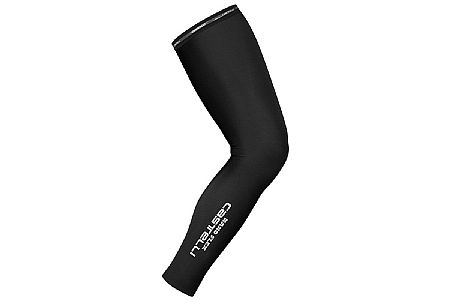 Cycling Enthusiast
San Jose, CA
2 of 3 customers found this review helpful.
warm down into the high 30Fs, without being too constrictive or thick
The fit is excellent. I'm 6'5 & 210lbs, w 34 inseam. Long enough that I can pull them up quite high and they still cover to midway between ankle and bottom of calf. Paired with above ankle sock/shoe covers, these keep the warmth in. The silicon gripper at the top works well. It's not overly wide (like Pearl Izumi). Also, the zipper seems more robust than some of the other brands I've tried. These are my go-to pair in all but the coldest temps (I have a thicker pair - forget the brand) for I've ridden these in temps into the mid 30's, and once I get my body temp up, they keep me warm. They are also moderately water repellant in light rains.
Thank you for your feedback.
Daily Commuter
portland, or
nanoflex for cold nanoflex for wet nanoflex for life
commuter PDX.
I use these daily in late fall, winter, early spring months. I have bibs and shorts also made of the same material which are great as they dry fast so if you muscle through your commute in wet conditions they will be dry when you leave work. the leg warmers hold their position (don't ride down) keep your legs warm and are better than the many others I have tried.
these leg warmers and the material is great. I highly recommend.
Thank you for your feedback.
Competitive Racer
New York
Warm and tough leg warmers fit perfectly with zero sag.
I'm a former cyclocross racer and came to hate leg warmers, due to their stubborn tendency to sag and droop, particularly when wet or muddy. I'd typically opt for embrocation on bare legs, even in the coldest weather. Now that I no longer race, I've lost a lot of that toughness and prefer to cover my legs when cold, but I still can't stand the sagging of most leg and knee warmers. I also find they get threadbare at the knees after only a few long rides. These are different. Thinner, non-roubaix fabric on the back of the leg (which doesn't really need wind-proofing), and tough, thick roubaix fabric on front. All-black fabric has worn extremely well so far. Also dig the gripper bands on both inside and outside. Helps keep things tidy. If you're not a fan of tights (like me), pair these with a good thermal bib short (like Rapha). Good to go.
Thank you for your feedback.
Competitive Racer
Cincinnati, OH
Best out there, blocks everything.
Everything you want in a leg warmer. Fits great, not short, not too high. Sheds water like a windshield. Warm and blocks wind. Would say, as others have in the past, many washes may make the logo peel off. But no big deal.
I am 6'1 about 160, with skinny legs and a large fits great.
Thank you for your feedback.
my goto
I commute daily and for years used rain pants for those non dry days and hated them. However I decided to go a different route and use leg warmers, and what I found is they will keep you fairly dry and warm. and the best part is they dry extremely fast when off the bike. if they are wet when you get to work they will be bone dry when you leave provided you are at work longer than 4 hours. They are perfect in the winter later fall and spring. I have used many other brands and styles but this fabric is great. I also have several pairs of Castelli Bib shorts constructed out of the nanoflex and get the same result.
Thank you for your feedback.
Cycling Enthusiast
Philadelphia
Daily Commuter
Denver, Colorado
1 of 1 customers found this review helpful.
Simply Excellent
This replaces my cycling tights. I wear legwarmers in the morning when its chilly and take them off when it warms up. On morning I got caught in the rain. The Nanoflex plus coating really works. The rain just shed off. It wasn't waterproof, but, it shed about 90 percent of the rain. It kept my legs dry and warm. New technology, I'm impressed. I'm really happy with this product.
Thank you for your feedback.
Competitive Racer
Pasadena, CA
Quality materials, but the fit needs work
I bought a pair of the original Nanoflex leg warmers a few seasons ago and they've been absolutely great. However, they were getting pretty worn out so I replaced them with the Nanoflex Plus. I purchased a size large, the same size as my older Nanoflex warmers which fit perfectly (I'm 62' and 160 lbs). Putting them on, I noticed the circumference of the ankle end is way larger than my old pair- so much that they're not tight on my legs, and the zippers tend to work their way up about an inch all on their own when I start riding. The material also bunches behind the knees in a way that my old pair never did. It has to do with the combination of heavier material on the front and lighter material in back, I think, because that's right where they seem to bunch and gather.
When it comes to functionality, they are warm and repel water like nothing else out there. I just wish the fit was more consistent. I love them for the nastiest of conditions but I'm not sure they will be a go-to in any other weather.
Thank you for your feedback.