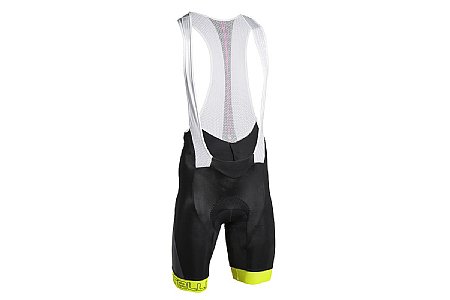 4 of 4 customers found this review helpful.
Nice bib shorts but a bit snug
I normally wear L size in other brands, so I ordered XL. The shorts feel more snug than I would like but the straps on the bib seem particularly short....which makes the shorts even more snug. Reluctant to buy XXL in case it is way too loose.
Thank you for your feedback.
Cycling Enthusiast
san francisco
0 of 1 customers found this review helpful.
not the best of Castelli
Not my first Castelli Bib and not the best one, this one is a little narrow between the top of the legs and overall tied, but the chamois is confortable and do the job.
Thank you for your feedback.
My favorite bibs.
I love these and ride these more than any other bibs I have, they are literally hang drying right now! The fit is delightfully snug, length is great, kiss chamios is, as always, a champ. The cut in the front is a bit lower which lets my beer belly chill a little bit but is great for pee stops. These are my third pair of Castelli bibs and dont see myself steering away too much. My first pair of Castelli bibs were a more entry level pair and the logos, reflective tape, and stitching came loose after about 10 rides. These havent any of that issue after over 30 rides. As youve likely seen, order up a size. Like the mesh back says, you know youre getting an unfair advantage.
Thank you for your feedback.
Cycling Enthusiast
Santa Fe, NM
My bib of choice - GREAT ride comfort!
This is my go-to ride bib. I have 4 of these bibs. I am 5'10, 160 lbs. I wear Castelli Large. The bib is a great fit. The leg fit is perfect, not constricting. Leg grippers are smooth and comfortably hold the shorts to the leg. For me, the straps could be a little longer, however, they are comfortable. I love the new waist construction, good support across the stomach. The KISS Air is my preferred Castelli chamois. I highly recommend the Castelli Velocissimo bib short.
Thank you for your feedback.
Cycling Enthusiast
Tucson, AZ
5 of 5 customers found this review helpful.
Very comfortable with a nice chamois.
Ive been riding various Castilli shorts and Bibs for several years but this was my first pair of Velocissimos. I use these primarily for mountain biking and found the chamois to be quite comfortable and perfect for a long day in the saddle. I liked these so much and they were so comfortable I ordered another pair after one ride. They have a Europeanrace fit so they run small. I usually wear a medium but a large fits fine. For the money they are a darn nice pair of Bibs. As an added plus the yellow fluorescent color is highly visible.
Thank you for your feedback.
Competitive Racer
Little Rock, AR
Great Bib one of my favorites!!
This is a very comfortable bib short. Great chamois! I use this during my weekly training road rides. Nice product. Fit runs small so if you don't like a tight fit you may want to go to the next larger size.
Thank you for your feedback.