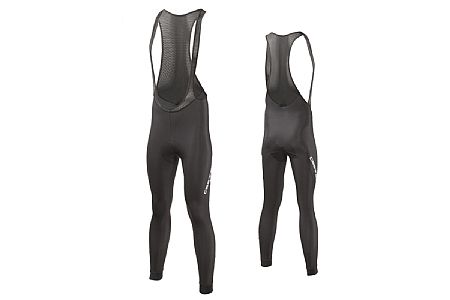 Competitive Racer
SE Pennsylvania
0 of 1 customers found this review helpful.
Nice cool weather tights
Just have a couple rides so far with these tights, mid-60's to low 50's temps, and I like them. Fabric is thin & stretchy so they're very form-fitting, and they have a light fleece on the inside for insulation and also breathe well. This is cool weather tight, not a cold weather tight. At low 50's the airflow through them felt mildly chilly, but still comfortable. I think high 40's will be the lower limit for these tights, at which point I'll switch to warmer tights that block the wind better. I wanted these for cool FallSpring weather, and provided they're durable I think they'll be my favorite tights.
This is my first Castelli kit, and sizing is a challenge. I'm 5'9, 155 lbs, 31 waist, 39 chest. I wear Medium everything. If I follow the Castelli size chart, M should work. Except it doesn't. Thankfully I followed others' advice and ordered Large, and it's as snug as the most snug M kit I have. It's comfortable, but no room to spare. Probably 5'10, 160 lbs is gonna be about the upper limit for Large. I also got the Sorpasso 2 Wind tights and Alpha ROS jacket for colder temps, both in Large, and they're equally snug. Will review those after I've had a chance to get some miles in them.
Thank you for your feedback.
2 of 3 customers found this review helpful.
These are great! Very stretchy and the built in chamois is superb. I like the water repelling qualities of these tights.
These are very stretchy, in fact I can wear a size smaller than other Castelli tights or shorts. They repel water and are fairly warm down to mid 30s for me. I actually like the chamois better than the more expensive Progetto pad on higher priced Castelli clothing.
Thank you for your feedback.
Competitive Racer
Portland Oregon
1 of 1 customers found this review helpful.
Excellent tights.
Originally, I ordered a pair of these last spring. BTD says order a size up, and since I have a couple of L Castelli jackets, ordered L (Im 511, 175). I couldnt pull them over my thighs, which are relatively muscular. I brought them back to the warehouse, and ended up with Garneau bib shorts.
But I still wanted something more versatile for winter, so I ordered again, this time XL.
The fit is good. A little long in the legs, a bit snug at the shoulders (I like the stretchier suspenders of Garneau better), a good, slightly compressive fit in the legs. Nice chamois.
Ive ridden them in quite a bit of varied weather, and they perform pretty much as advertised. Water beads up, for the most part, though as rain gets heavier, youre definitely going to get water penetration. But you will be warm. Ive been out in the low 40s, and while my knees are cool after a few hours, they arent cold. Ive yet to be out where the temperature stays below 40, so I cant really say how theyd hold up on a longer ride at that temperature. If your ride warms up, they wick away sweat pretty well.
I would recommend them. Unless you have massive thighs, then finding a size that fits will be hard, as the material isnt as stretchy as most shorts.
Thank you for your feedback.
Water resistant for sure and a great cold weather bib tight!
These tights have nice compression and breathe really well. They won't keep you dry if you are riding in steady rain, but if you get hit with a passing shower you can see the water bead up and fall away. They are comfortable for me from about 40 degrees to the mid 50's with or without rain. They are my new go to bib tights for cold, damp weather. I really like them. Sizing is consistent for Castelli, they run a little small.
Thank you for your feedback.
2 of 2 customers found this review helpful.
Don't buy this if you don't fit in skinny jeans
Even though the sizing guideline said to order a size up these are made for the guy who is in shape, not trying to get there. They seem well built, but do not accommodate any belly at all.
Thank you for your feedback.
Cycling Enthusiast
Seattle
3 of 3 customers found this review helpful.
Great Tight for the rain
Incredible, water just falls off this tight coolest tight I've ever ridden in. Kept the water off my skin so I wasn't chilled but felt just like a regular tight as far as everything else. I would recommend these to anyone who rides or thinks they might ride in the rain. Works great on the trail as well.
Thank you for your feedback.