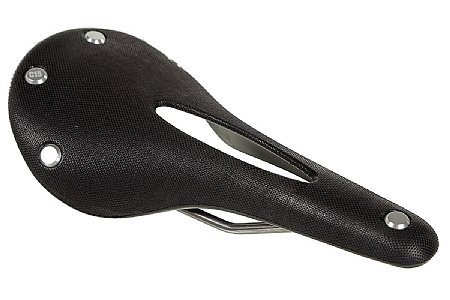 Cycling Enthusiast
Little Rock
2 of 3 customers found this review helpful.
one of the best purchases i've ever made
One of the best purchases I've made for my bike, and my butt. Was having a hard time getting a saddle to fit and thought I'd try this as other reviews had been all positive. Once I got it set, it was perfect and comfortable from the first ride. Put it on three weeks before the Dirty Kanza and thought it might cause some issues but performed perfectly through all 200 miles. It was so good, I've purchased another for my road bike.
Thank you for your feedback.
Cycling Enthusiast
Milwaukee, WI
Cycling Enthusiast
Mesa, AZ
Competitive Racer
Boise, ID
1 of 1 customers found this review helpful.
Fantastic out of the box
I use this saddle on my Salsa Cutthroat, which I ride primarily in bikepacking race events (and training for those events). I have more than 1,000 miles on this saddle so far, including several overnight and multi-day rides in all weather conditions. It was comfortable on the first ride and remains comfortable today, with no wear other than a slight patina in the saddle surface as it breaks in. This is my favorite saddle to date and I can't imagine using any other for this type of riding.
The only drawback is that it is a bit heavy, but that's a price I am willing to pay for the comfort it provides on multi-day excursions. I couldn't be happier, but wouldn't put this on my road race bike (maybe would the C13 though).
Thank you for your feedback.
Cycling Enthusiast
Bellingham, WA
No Break-In Required
Replaced my C-17 Cambium saddle with this one on my road bike. Nothing wrong with the C-17 saddle, but it looked a little wide for a sporty bike. Took off on the C-15 and haven't looked back! Same comfort level, no getting used to it, etc. Great saddle! Very good price from BTD! Good decision.
Thank you for your feedback.
Casual Cyclist
Vancouver,wa all kinds of weather
The bottom line is your bottom and not mine
The C15 looks great, is flexible to a degree, it is gratifyingly narrow enough and profiled to not chafe. I guess I was a little disappointed that it is not soft in a rubbery way I was expecting. Mine is pretty damned hard vulcanized, black rubber. This is not to criticize an apparent necessity of manufacture. It probably has to be pretty hard? It's just to say the C-15 Cambium, nice as it is, is not a good match for my nearly fleshless bottom. Am bony at the sit bones area. There is just not much fat cushion at the sit bones. So, the fault is in my lack of natural padding. The Brooks looks so great, though. I am not a hipster or snob, but, just saying the Brooks is a classy upgrade to my Critical Cycles Harper coaster brake single speed. It makes the bike look very sharp.. There is no better-looking saddle than a Brooks....but, maybe I am a snob, whatever...yet, I have just put an $8 Sunlite gel pad cover atop it and in this ugly way find my comfort. And quickly remove the pad when I want to feel good about looking at my saddle. The gel pad is unsightly and makes me feel like a Brooks-Benedict Arnold. Padded cycling shorts work, too, instead of the pad, just not want to just hop on the street bike in my street clothes. Bottom line I like the C-15 and would buy it again.
Thank you for your feedback.
Cycling Enthusiast
Northwestern.pa
1 of 1 customers found this review helpful.
Quality built saddle, classic look and waterproof.
I purchased this saddle to replace my factory seat on my cyclocross bike. It looks greaT and is suppose to be waterproof.The seat is very stiff for being constructed from rubber,I hope it will give a little.
Thank you for your feedback.