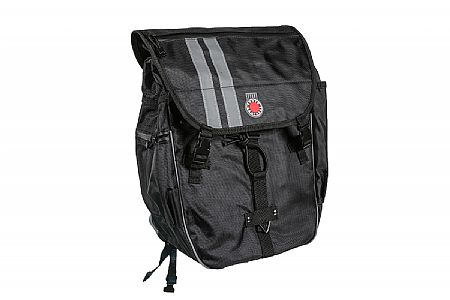 Daily Commuter
Burlington, VT
1 of 2 customers found this review helpful.
Good bag, serves its purpose.
This bag does the job! I like that is can be worn as a backpack and is not just a pannier, this is especially handy when locking my bike up and running errands on my way home from work. My one issue with it is that there is seam coming apart in one of the corners after a few months of use.
Thank you for your feedback.
Cycling Enthusiast
Portland, OR
2 of 2 customers found this review helpful.
Basically good, but the waterproof jury is still out.
The fundamental design of this pannier backpack is really good. It converts from use as a mid-capacity pannier to a backpack quite easily. Get off your bike, the pannier comes off easily. Flip the flap and pull the backpack straps out and toss it over your shoulder.
My favorite feature of the pack is the pocket on the flap. It has zippers on both sides. Toss your keys, wallet and phone in there and access them quite easily in pannier or backpack mode.
The pack also has a zippered pocket on one side and an open pocket on the other side. The zippered pocket fits an eyeglasses case with room to spare and the other pocket fits most water bottles or travel coffee mugs.
The zippers on the flap pocket and on the side pocket are sealed and look like they'll hold up well in the wet.
I'm not sure about the waterproof situation on the main pocket. The bag uses a waterproof insert. To close it you fold over the black outer shell and the interior waterproof bag a couple of times. Then secure it closed with a quick release strap. My problem is that the bag seems to lose one or two folds when I'm riding. By the time I reach my destination, the top of the bag is still closed, but it's not folded over anymore and not secure from water.
I'm going to continue to work with it through the rainy season here in Portland and will try to update this review as I get more experience with this pack in the rain.
Thank you for your feedback.