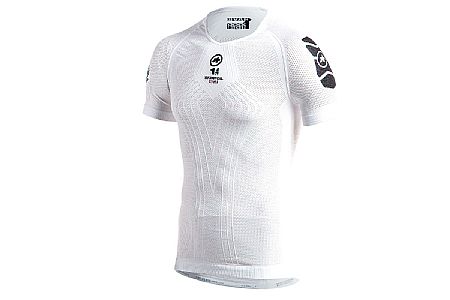 By far the most comfortable base layer I've used
I never thought I would spend this much on a base layer but I had some irritation in my arm pit and decided I'd give it a try. Now I'm totally spoiled. Fortunately, this piece seems to be holding up very well after several dozen washes (still looks new), so perhaps it's really not that expensive.
Thank you for your feedback.
Competitive Racer
New England
Great looking, great fitting, not sure on temperature regulation
Great base layer. Fits true to size (5'6 145 lbs - bought smmed). It's not quite a crew neck, more like a modified v-neck, which is a nice touch. I really like it because it is very cool (cool as in - groovy) looking and I like the fit. To be honest, I'm not sure how cool (as in - temperature regulation) it is keeping me. The chainmail type base layers definitely do a better job of letting cool (as in - cool) air in. Still, I like it and would buy it again.
Thank you for your feedback.