Racing/Performance Tires
The world of bicycle components is generally ruled by the "2 out of 3" rule. A single part can generally meet 2 out of 3 performance goals. For tires, these goals are speed, grip/road feel, and flat protection/durability. Racing/Performance tires are for riders for whom the first two goals are most important. They are designed to provide maximum speed (low rolling resistance) and optimal handling (grip when cornering).
Race-quality tires tend to be the flagships of most tire manufacturers. They receive the most promotion and tend to be the most expensive. Racers and fast recreational riders will most appreciate the high speeds and agile handling afforded by performance tires. Recreational and touring riders will probably be happier with the more durable (and less expensive) tires found in the training/recreation tires section.
While tires in this section are not high-mileage, all season tires, they are by no means fragile. A good pair of performance tires will typically last 1,500-2,000 miles when used in good conditions. While their light weight makes them a bit more susceptible to punctures, performance tires should not fail except in the event of at least a moderate hazard such as a sharp piece of gravel or a glass shard.
Michelin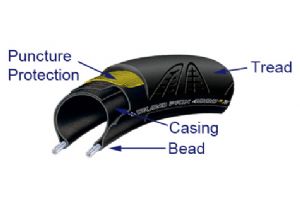 As one of the world's largest tire manufacturers,
Michelin
is one of the standard providers of all manner of cycling tires. In the Spring of 2008 Michelin debuted the
Michelin Pro3 Race Tire
. The Pro2 Race was a tire much loved by racers and recreational cyclists alike, and improving it was no small task. Michelin succeeded, and the Pro3 has met all of our high expectations. It introduces an improved rubber compound that offers increased grip and diminished rolling resistance. In fact, the Pro3 replaced not only the Pro2 Race but also the Pro2 Grip and Pro2 Light tires. They truly do deliver as promised.
For training, the Michelin Krylion Carbon Tire delivers great grip and road feel, durable puncture protection and rolling resistance comparable to many race tires. A thin carbon layer over the tire's casing provides reliable protection from debris-strewn roads.
Continental
Continental is also one of the world's dominant tire manufacturers. Like their rivals at Michelin, they have an excellent reputation in the cycling world.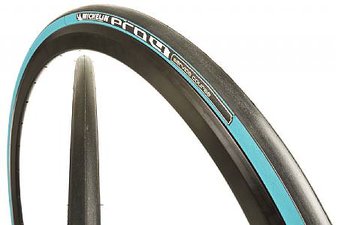 The
Continental Grand Prix 4000 Road Tire
is Continental's flagship performance tire. Comparable in durability, resistance and cornering to the Pro3 Race, the GP4000 is often thought to give a softer road feel than its Michelin rival. Recently Continental has introduced a "Black Chili" rubber compound that decreases rolling resistance and increases durability over Continental's previous compounds. Another feature of the GP4000 is their patented Vectran strip inserted between the casing and tread of the tire. Vectran was developed for NASA to use in Space Shuttle construction and is employed by Continental to give the GP4000 excellent resistance to flats.
2008 brought the introduction of the Continental Grand Prix 4000 S. This is essentially the same tire as the Continental Grand Prix 4000 Road Tire, but with Black Chili and a sleeker look than the standard 4000. Continental found that their standard graphics included a bit too much 'Conti Yellow' for some riders' tastes, so they designed a tire with a more modern stripe.
The Continental 2012 Attack/Force Clincher Tire Set introduces the idea of front and rear specific tires for road bikes. The Attack front tire is narrower and features a more supple rubber compound for improved handling in corners. The rear Force tire is slightly wider and features a more durable rubber compound for the wheel responsible for your power transfer.
Rounding out Continental's racing stable is the Continental Grand Prix Supersonic w/ Black Chili. The Supersonic is one of our favorite racing tires. It is ultra-lightweight and displays impressive traction when cornering. Billed as the world's lightest clincher tire (and we haven't found any evidence to the contrary) the Supersonic features impressive flat resistance. The lifespan of the Supersonic hovers closer to the 1,000 mile mark, typical of a tire this light. Save this one for race day.
Vittoria
In the world of professional racing, Vittoria is the preferred brand of tires. The vast majority of professional teams rely on Vittoria tubular tires, and many other teams with conflicting sponsorships will even ride Vittoria tires with their sponsor's name crudely printed on the side.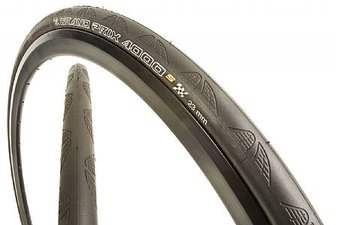 While most pro teams rely on tubular wheels, and have a staff of mechanics to maintain them, amateur and recreational riders are often better off sticking with convenient and relatively inexpensive clinchers.
Vittoria Open Corsa EVO CX II (320 TPI) Clincher
is the clincher version of the pro's favorite tubular tire.
Vittoria Open Pave Evo CG (320 TPI)
is the clincher version of the tire that delivers many riders to the finish at races like Paris-Roubaix and Tour of Flanders - it's a tough cookie.
So with all this hype, is there a downside? Well, yes; the Evo CX is one of the faster burning tires you'll find. Expect to get about 1,000 miles out of it. Additionally, the Evo CX weighs in at 230g, which may seem a tad heavy for the weight weenie set. The Pave weighs in at 250g.
Maxxis
Maxxis is a relatively new player in the cycling tire market, but their tires impress us with their quality and reliability. The Maxxis Courchevel Road Tire is a race-quality tire featuring excellent durability and above-average grip. Riders who loved the Michelin Pro2 will probably be comforted by the Courchevel's wide profile. The tire actually resembles the Pro2 in many ways: fast enough to race and tough enough to ride all year.
Vredestein
Vredestein is a Dutch tire manufacturer that may not be familiar to American cyclists, but their product line is no less impressive that that of Michelin or Continental.
The
Vredestein Fortezza TriComp
is another entry in the race clincher market, comparable with the Pro Race Series or GP 4000. Vredestein advertises that their tires can be run with up to 145psi. While we don't see a reason to run a clincher over 130, they say you can. Those in search of high psi clinchers will be happy on Vreds.
The Vredestein Fortezza is an excellent choice for training and racing. It's use of a single rubber compound (rather than the Tricomp's three) keeps the cost lower.
At BikeTiresDirect.com, we make an effort to serve all of your racing, training, touring and recreational riding needs. If you don't see one of your favorite products, or need a suggestion to try something new, don't hesitate to contact us at 1-800-682-0570 or sales@biketiresdirect.com.
Our Most Popular Articles
26 inch Cruiser Tires
About Us
Bicycle Lights
Bicycle Parts
Bicycle Pedals
Bicycle Wheels
Bike Seat Posts
Capo - Jersey Women
Chain Compatibility
Common Tire Sizes
Follow Us On Twitter!
Mountain Bike Road Tires
Older Tire Sizes
Pearl Izumi - Socks
Privacy and Security
Racing Bicycle Wheels
Racing/Performance Tires
Returns/Exchange Policy
Road Bike Fenders
Road Bike Handlebars
Road Bike Stems
ShimanoShoeChart
Shipping
Sidi Cycling Shoes
Silca Pump Rebuild
Tire Size Chart
Tire Tips
Tire Width
Tube Types 1
VIP Club Details